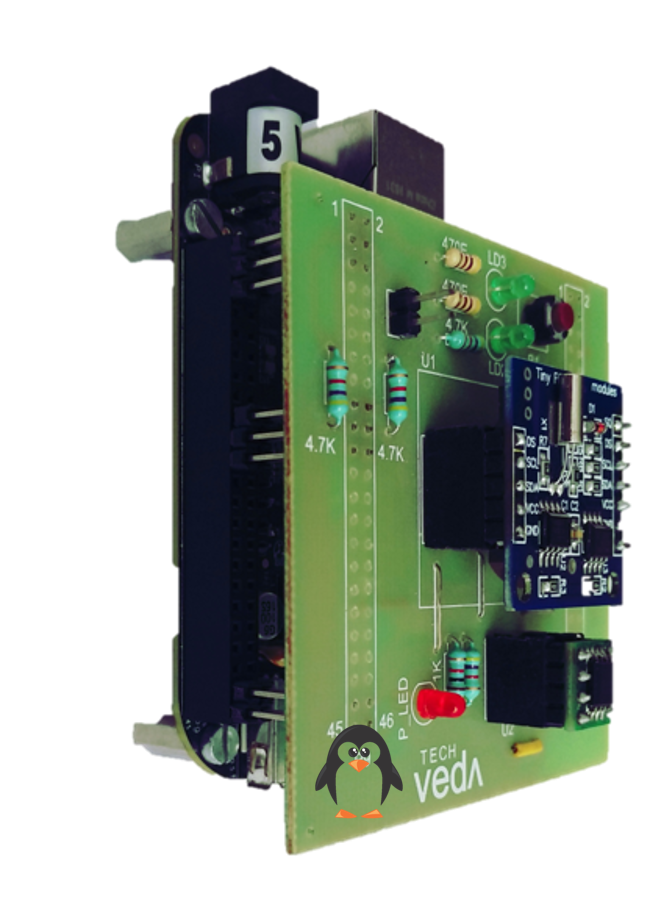 Embedded Linux & Driver Developer
Rated India's finest program by over 40 MNCs and 5000 professionals
Program Overview
Designed for anyone with C programming skills to master the nuances of core system/embedded level programming
Gain a whole new perspective to key programming aspects like Program execution, Libraries, Stack analysis, Memory, Signals, Threading etc.
Comprehensive coverage on Linux device drivers and helps participants gain clear insights into getting started with writing device drivers. Covers key aspects like Driver architecture, Char drivers, Network drivers, Memory and Interrupts
Hands-on training on Embedded Linux and Embedded Drivers. The program will be delivered on customized hardware platform. Covers U-Boot, Yocto, Porting, Embedded drivers etc.
Regular mode: 5 months
Weekend mode: Around 15 weekends
C programming knowledge (mandatory)
Linux basic commands and usage of Vi/Vim editor (not mandatory)
Anyone with a keen interest to create a career in Embedded Systems or System Programming
Linux programmers looking to get started with Embedded Linux, Linux kernel space and device driver development
Program Contents
Part 1 - Linux System Programming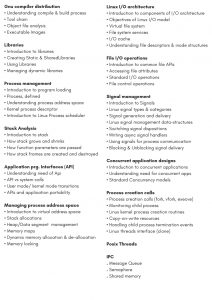 Part 2 - Linux Device Drivers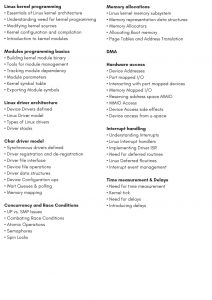 Part 3 - Embedded Linux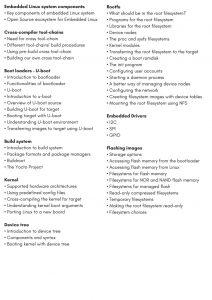 Participant Feedback
Read more feedback
Before giving a feedback I want to give my background. I have worked with Samsung India for 4 years on Mobile Platforms and Drivers. Learning Linux was always was always my passion since IIT-BHU days and had studied Linux literature like LDD3 and Robert Love in college only.
I joined this course for sake for gaining extra knowledge and came with a pre-assumption that faculty would try to teach me stuff I know already and that my time would be wasted. But to my surprise Mr. Raghu through his brilliant course content, eloquent and simple way of delivering complex material have surprised me and gained my full respect.
Feedback On Part 1 (Linux Programming Essentials)
By looking at the brochure I felt that most of the stuff I already knew like Process Management, POSIX, Netwroking, libraires, object files stack etc. since I was working on these areas for 4 years.
But it was very wrong of me to assume that we already know what Mr. Raghu is going to teach and that it will not be beneficial or will waste time. Believe me – if you want to learn Linux come here with an empty cup – adapt to Mr. Raghu's teaching style then only move on to drivers. (Not attending Part 1 is a very foolish attempt). If somebody wants to learn drivers he/she needs to go through Part 1 for following reasons:
Experienced students – We mostly know theoretical stuff in comparison to what is taught in class on Linux. You will get to see practically the things we know exist in OSes with an elaborate real example with a brilliant background on each topic. It will strengthen your understanding of even the basics of topics. Trust Mr. Raghu on that. If you have passion for Linux, you cannot find a more insightful and interesting teacher. You will gain so many tips and tricks on Linux that you will surprise many.
Freshers – You will learn more in 3 months than you will learn 3 years in industry.
Feedback on Part 2 (Linux Kernel and Device Drivers)
Even after studying LDD3 many times I had hundreds of questions in my mind. Mostly like why a particular procedure to write char drivers or what is platform driver, block driver. Mr. Raghu explained the basics to advanced architecture of each driver in such a way that I don't have to think twice what way I need to implement a particular driver.
After this course, when I go through many real drivers I understand them better now.
I congratulate and thank Mr. Raghu on running such a beautiful course for us Linux enthusiasts. Proud to be your student
Alok Singh
Being recently graduated from engineering and being curious about electronics, it's quite confusing which way to go next. One of the best decision I took was joining Tech Veda.
It has equipped me with new skills, most important one was relying on my thought process. I believe this kind of teaching has to be implemented everywhere. I wanna thank Raghu Sir and Tech Veda team for showing me a way to grow in my career. I can assure Tech Veda as best place for passionate programmers to learn Linux kernel fundamentals
Moses Loschnig
I have read through lot of materials on Linux and have been working on Linux for some time. Everything seemed quite complicated and enormous until I came across Techveda and Raghu. After listening to Raghu, I could stitch all the pieces of Linux quite easily and manage to learn more, because the fundamentals has been addressed. His teaching technique and content are tailored made to industry professionals. I wouldn't hesitate to say that Raghu has the calibre of professors from great institutes like IIT's, MIT, Stanford, CMU etc..
My strong recommendation to all those aspiring to be system engineers is to take up the courses from Techveda and work through them to gain greater insights. Their e-learning modules are also of great advantage. Thanks to Techveda and Raghu who are doing a great job spreading knowledge at affordable price
Prathap
The training with Raghu was a wonderful experience for me. I had some experience with Linux and kernel which I gathered from books, reference documents and experiments. But I was especially impressed by the way Raghu taught the complex thing in a simplified and detailed manner. He not only covered all the topic with example but enabled us view each topic in various angles, which was tremendous.
I thank him a lot for sharing his knowledge with honesty
Ajay
Raghu is one of the best minds when it comes to corporate training. His ability to go deep and wide to the queries/doubts with lucid answers is a boon to his clients/students.
He is also not tied to any specific topic like other consultants do, just throw a question at him and rest assured you will get the right direction to go forward. His enthusiasm has inspired me and I rate Raghu as one of the perfect trainer on Linux Kernel/Embedded.
Sujeet Jog
<!– Global site tag (gtag.js) – Google Analytics –>